Keira McKenzie, a 15-year-old Chilliwack burn survivor, was recently given the chance to go on a shopping spree at a big-box store where she spent hundreds of dollars.
She loaded a shopping cart with toys, arts and craft supplies, and more. But not one of the items she picked out was for herself.
"She chose to spend her money on purchasing toys to give out to kids and their siblings who have to stay in the hospital while the rest of us are enjoying our summer," said mom Terresa McKenzie.
The toys will be gifted to kids on the burn ward at BC Children's Hospital, a place Keira's very familiar with. And even though she bought hundreds of dollars worth of toys, she doesn't think there's enough for all the kids, so she's holding a 'Christmas in July' toy drive in hopes that other people will also donate toys and clothing to help cheer up kids.
Keira knows firsthand what it's like to spend weeks in the hospital and not be at home. When she was nine years old, she suffered second- and third-degree burns to about 25 per cent of her body when scalding hot drinks fell on her lap.
She spent a lot of time at BC Children's Hospital and remembers how long the days were.
"All I can remember at the hospital is the little gifts I would receive from the doctors like the arts and crafts that we'd do together… just to make time feel like it wasn't going so slow."
It was back in November 2017 when the hot tea, coffee and hot chocolate fell on her lap during a drive-thru run. Keira's parents drove her to Chilliwack General Hospital where her burns were treated but her condition worsened. Strep throat, which she had at the time, was causing complications. Keira was eventually transferred to BC Children's Hospital and when she arrived she had a dangerously high fever and was admitted to the Pediatric Intensive Care Unit. She nearly died 13 days after the burns due to sepsis. Once stabilized, Keira was moved to the burn unit where she spent 10 days undergoing daily burn bath treatments.
Today, Keira returns to the burn clinic every six months for check-ups, and will soon undergo laser procedures to remove some of the visible scarring.
It was the Children's Miracle Network and Walmart that came together to offer the shopping spree to Keira who was chosen as this year's 'spokeskid' for the BC Children's Hospital Foundation. It's a well-deserved title for the teen who has been raising money for more than four years for burn survivors.
READ MORE: Chilliwack burn survivor, 15, shares story in hopes people will support children's hospital fundraiser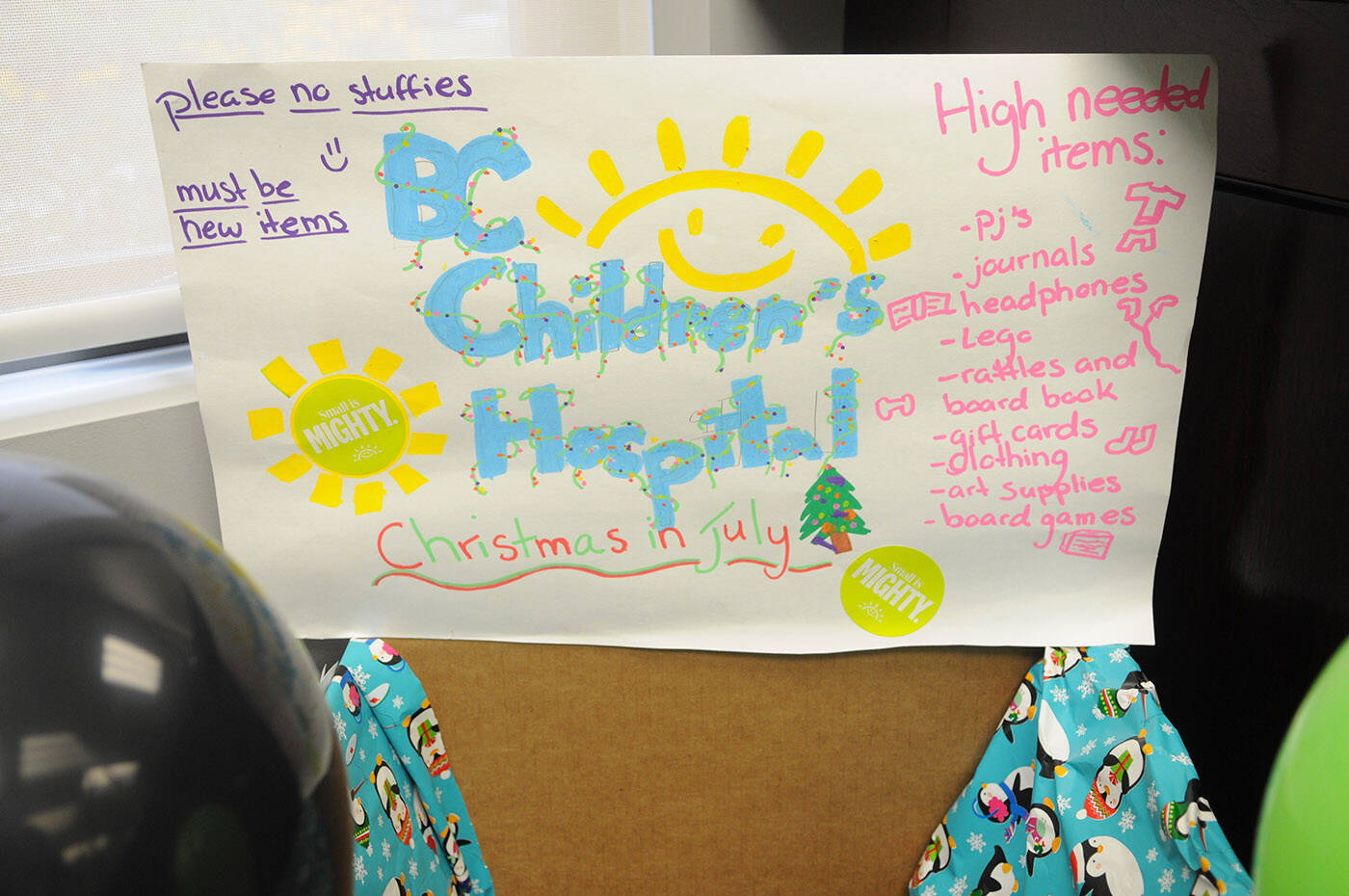 Keira is asking people to donate toys and clothing to her Christmas in July toy drive which runs now until Aug. 4. If she gets more than enough for all the young patients on the burn ward, she'll give the items to kids on the cancer ward as well.
The gifts are also for the brothers and sister of the patients.
"The siblings get forgotten about a lot when their siblings are in the hospital," Keira said, thinking about her younger sister Hailey.
High-need items include pyjamas, journals, headphones, Lego, rattles, board books, gift cards, clothing, art supplies, crayons, markers and pencil crayons and board games. All items must be new items with tags still on. No plush/stuffed toys.
People can drop items off at two locations in Chilliwack: 1-45953 Airport Rd. (Chilliwack MLA Dan Coulter's office), and suite 2D 7355 Vedder Rd. (above Sardis Health Foods).
For those who would prefer to do a cash donation, Keira has a page set up through BC Children's Hospital at secure.bcchf.ca/SuperheroPages/main.cfm?Event=ICE&Member=273829&PH=1.
---
Do you have something else we should report on?
Email: jenna.hauck@theprogress.com
Twitter: @PhotoJennalism