Get ready to taste some of the best low-and-slow meat around.
Ribfest is coming to Chilliwack for the first time ever this weekend, and along with it will be five teams ready to compete.
"It's nice on our 10th anniversary to have Ribfest in Chilliwack where I've had my biggest support," said James Moran, owner of Chilliwack's Guerilla Q barbecue food truck.
The Guerilla Q team will be going up against four other 'ribbers' – Gator BBQ (Simcoe, Ont.), Smoke Dem Bones (Penticton), Prairie Smoke and Spice (Saskatchewan), and Boss Hogs (London, Ont.).
Chilliwack Ribfest runs Friday, July 28 to Sunday, July 30 at Vedder Park. It is hosted by the Greater Vancouver Food Truck Festival.
First and foremost, it is a public barbecue festival. It is also a fundraiser for Chilliwack Rotary Club, and the competition part of it is the "fun side" for the teams, Moran said.
"Even though it's a competition we all work together."
If somebody needs help with something, if equipment fails, they help one another out and lend supplies to each other.
The judges are all community members (often mayor and city council, or other dignitaries) and sponsors. There will be awards for best ribs, best sauce and people's choice.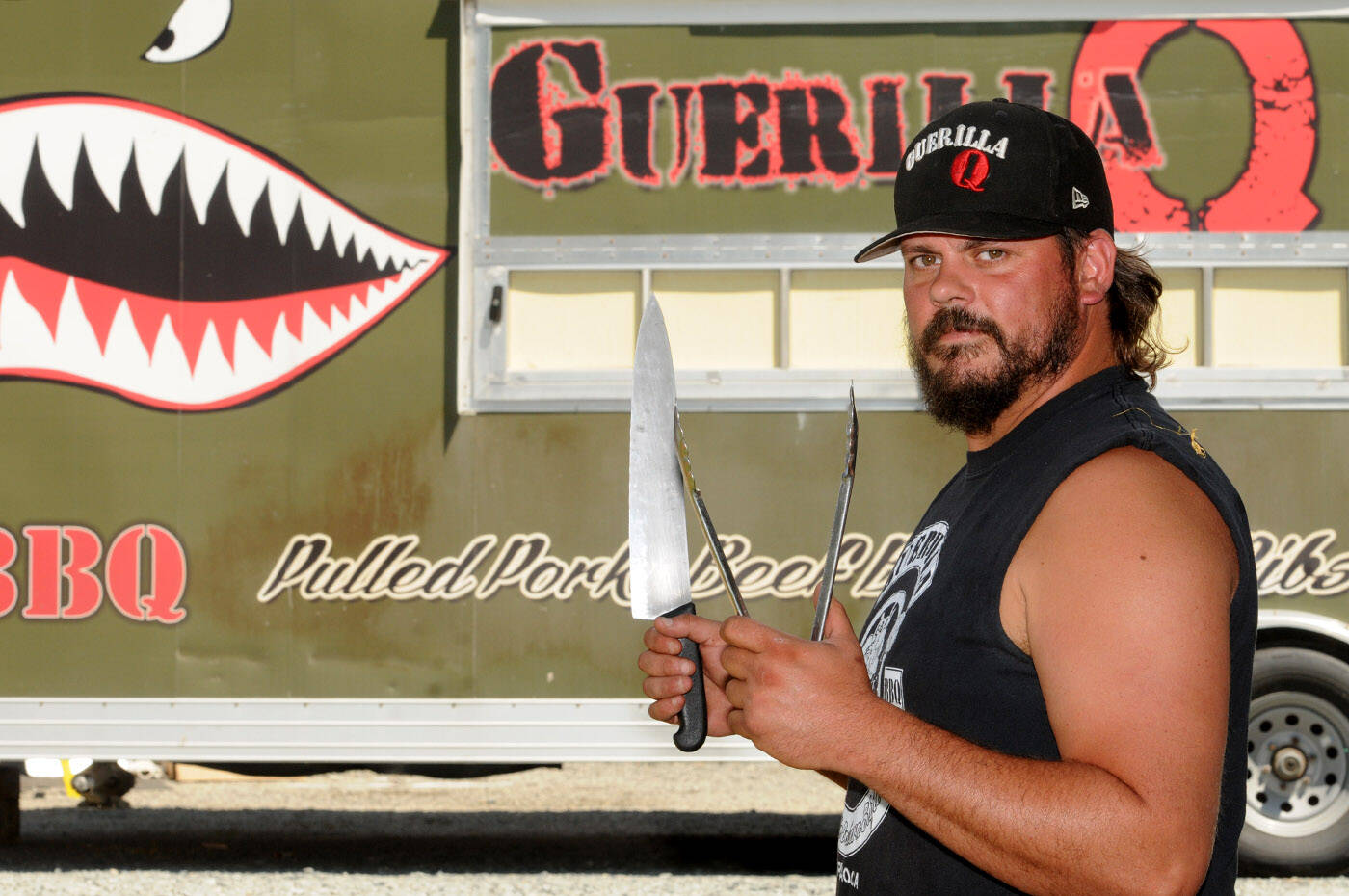 This is the fourth Ribfest for Moran. He competed in his first Langley Ribfest before COVID, then again in 2021 and 2022.
"Last year we took second place. I actually beat my mentor," he said with a laugh.
He's speaking of Rob Reinhardt from Prairie Smoke and Spice.
"He's the best of the best. Nobody has won more than he has in Canada," Moran said.
Prairie Smoke and Spice is Canada's most decorated barbecue team, with accolades spanning more than a decade. Highlights include 23 grand championships, two world champion titles, and more than 250 awards.
Moran has always loved cooking and fell in love with barbecuing around 2010 when his parents had the Big Red Barn Burner BBQ Competition at Chilliwack Heritage Park – which is where he met Reinhardt. Moran helped Reinhardt out at a number of events, including Ribfest in Kamloops, the PNE, and the Cloverdale Rodeo.
Then Moran started his own barbecue business and launched Guerilla Q in 2013. This weekend, he will once again go rib-to-rib against Reinhardt and three others.
Moran said leading up to Chilliwack Ribfest, he's been tweaking his recipe as judges found his sauce a bit too spicy in the past.
"We're taking our barbecue sauce and we're adding a little sweet to it. Because it's one bite. You're judged off of one bite."
The judges will bite in the middle of the rib and the meat has to come clean off the bone in a single bite without pulling any other meat off, he explained.
In addition to ribs, Guerilla Q will be cooking up pulled pork, beef brisket, and either chicken or pork belly. Everything will be finished on a live fire, charcoal grill.
"It's a lot of fun because you're not just standing in line waiting to get your food, you're watching it happen right there."
People pay a by-donation gate admission to get in, and part proceeds will go to the Chilliwack Rotary Club for projects such as maintaining the Vedder Rotary Trail. Inside the gates, folks can buy barbecue meals from any of the five food trucks. The event also includes a beer garden and live entertainment.
There were nearly 40,000 people at last year's Langley Ribfest. Moran said competitions are always hectic and he lives off the adrenaline.
"I thrive on stress when I'm cooking. I love the chaos of it all."
Even after 10 years, he said he gets anxiety before catering a wedding or corporate event, and added that he and his team are always playing with their recipes, different types of wood and cook times.
"It's a good anxiety, it a push to always keep getting better with what we do," he said.
It's been a "wild adventure" over the past decade, having fed country stars like Eric Church, Dierks Bentley, Randy Houser and country music duo Big & Rich.
"Actually talking about barbecue with these guys… they grew up in the south where barbecue is very prevalent. It was great to get feedback from people that know about the food."
Chilliwack Ribfest runs July 28 to 30 at Vedder Park (45450 Petawawa Rd.). Hours are: Friday, July 28 from 4 p.m. to 10 p.m., Saturday, July 29 from 11 a.m. to 9 p.m., and Sunday July 30 from 11 a.m. to 8 p.m.
For more info and tickets (suggested $10 donation), go to chilliwackribfest.ca.
---
Do you have something else we should report on?
Email: jenna.hauck@theprogress.com
Twitter: @PhotoJennalism