While a wildfire over the Canada-U.S. border south of Chilliwack Lake was estimated by Wednesday at 10 times its original size last week, U.S. officials say it's not expected to grow much more.
"Minimal fire behaviour with slow growth on the Bear Creek Fire was observed over the last few days," according to a press release issued by the North Cascades National Park Service Complex on Aug. 4.
The fire first discovered on Friday (July 30) was estimated at 100 acres (40 hectares), but officials admitted they did not have a good estimated size because of the challenging terrain.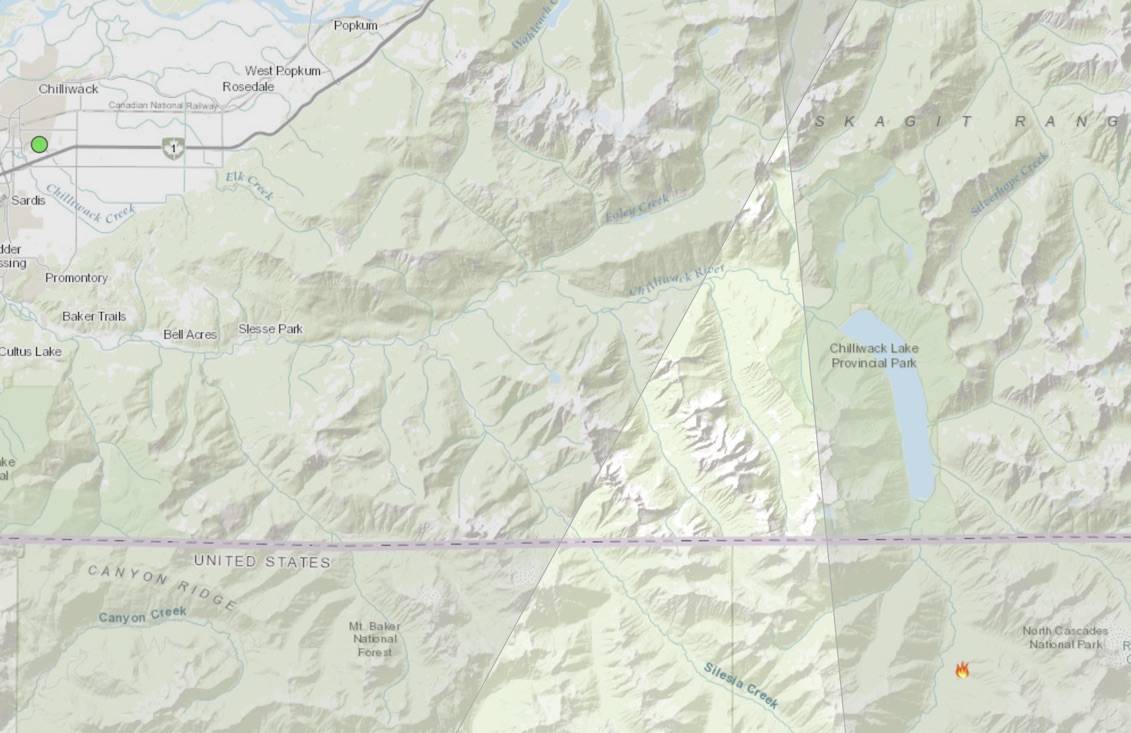 "With improved smoke and weather conditions, air operations were successful on Tuesday to fly the perimeter of the Bear Creek Fire. The fire is estimated at 1,000 acres (400 hectares), an increase in acreage due to more accurate mapping information; the footprint of the fire has not grown significantly. Minimal fire behaviour is expected to continue in the coming days as weather is predicted to bring cooler temperatures and additional moisture to the area."
Firefighters are working to confine and contain the fire to try to minimize spread.
"These strategies use terrain and natural features like rocky slopes and outcroppings, avalanche chutes, and advantageous use of aviation. Due to the location, firefighters are currently unable to safely engage directly on the fire's edge."
The cause of the fire is under investigation.
Information from hikers and visitors is often helpful to the investigation so anyone with information is asked to contact an investigator at 1-888-653-0009.
Trail and camp closures remain on the Copper Ridge and Chilliwack trails due to the fire's proximity. The Copper Ridge Trail is closed from Copper Lookout to the junction with the Chilliwack Trail. The Chilliwack Trail is closed from the junction of Brush Creek Trail to the north terminus. Copper Lake, Bear Creek, and Indian Creek camps are also closed.
Smoke from the Bear Creek Fire will generally impact the Chilliwack drainage, and the smaller drainages feeding into the Chilliwack, until early next week.
"As warmer and drier weather returns to the fire area on Monday, expect additional impacts to Ross Lake and Chilliwack Lake Provincial Park in Canada. Take precaution when recreating outdoors when heavy smoke is present. Learn more at airnow.gov or visit https://wasmoke.blogspot.com/."
---
Do you have something to add to this story, or something else we should report on? Email:
paul.henderson@theprogress.com
@PeeJayAitch
Like us on Facebook and follow us on Twitter.
Want to support local journalism during the pandemic? Make a donation here.