From the bones of the latest Honda Civic comes a new powered-up track-prepped model that bears the Type R name.
The Type R has been available in various forms to enthusiasts in Japan, Europe and elsewhere since 1997. Honda introduced it here for the 2017 model year as a Civic-based four-door hatchback.
The 2023 model is also a front-wheel-drive hatchback, except the Type R for North America is now built in Japan instead of England. Note that the key competitors in this class are all-wheel-drive.
The development process for the performance-focused Honda included testing on racecourses in Japan, Europe and North America. Honda claims the Type R set a record on the Suzuka Formula One race circuit in Japan for the quickest lap by a front-wheel-drive production car.
The distinctive hatchback body and structure are similar to that of the regular Civic sedan but with some significant exceptions. According to Honda, all body panels ahead of the windshield pillars, plus both bumpers, are exclusive to the Type R. A vented aluminum hood and larger front air intake help deliver cooler air to the engine.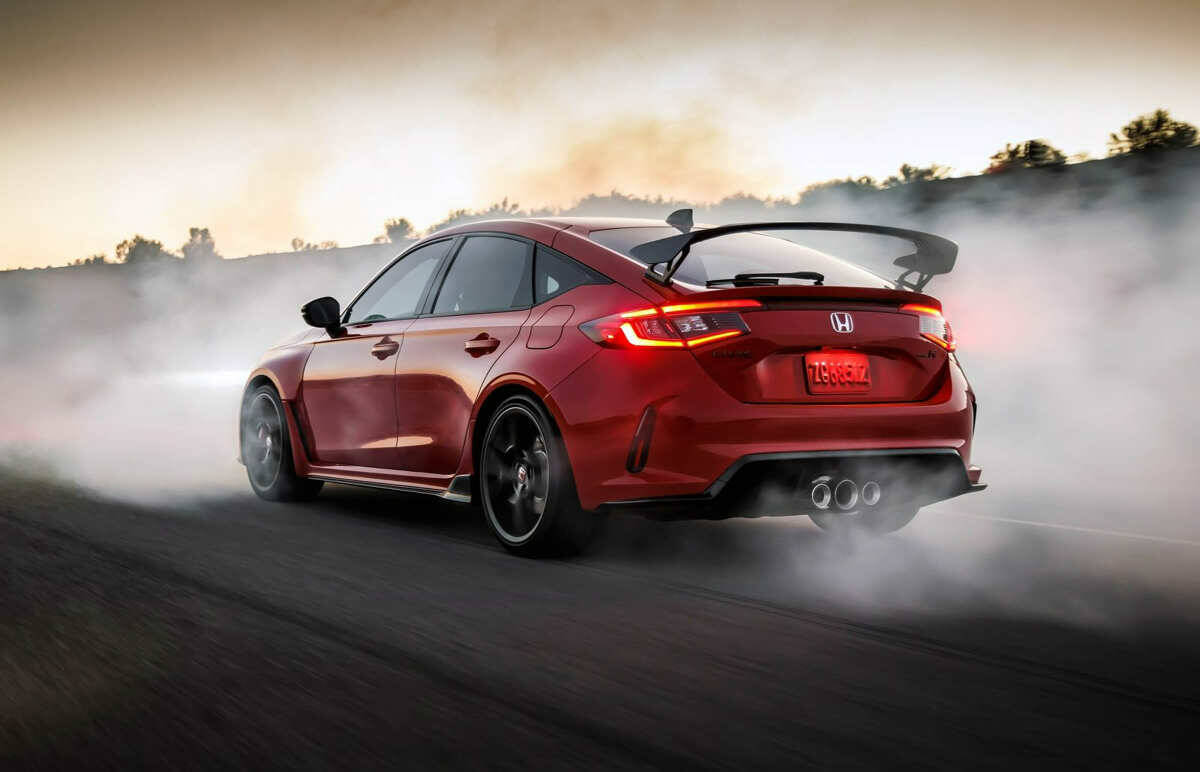 The previous Type R's rear spoiler had been criticized for obstructing rear vision, so this time around there's a somewhat slimmer version that also provides more downforce.
The new Type R is about 2.5 centimetres longer than the previous model and the distance between the front and rear wheels has been increased by about four centimetres. The flared fenders allow for wider wheels and wider spacing between the wheels (track width), which aids cornering stability.
The interior maintains the Type R's sporting nature, with well-bolstered lightweight front seats finished in suede-like red upholstery. There's also matching red carpet plus red stitching for the steering-wheel and door panels.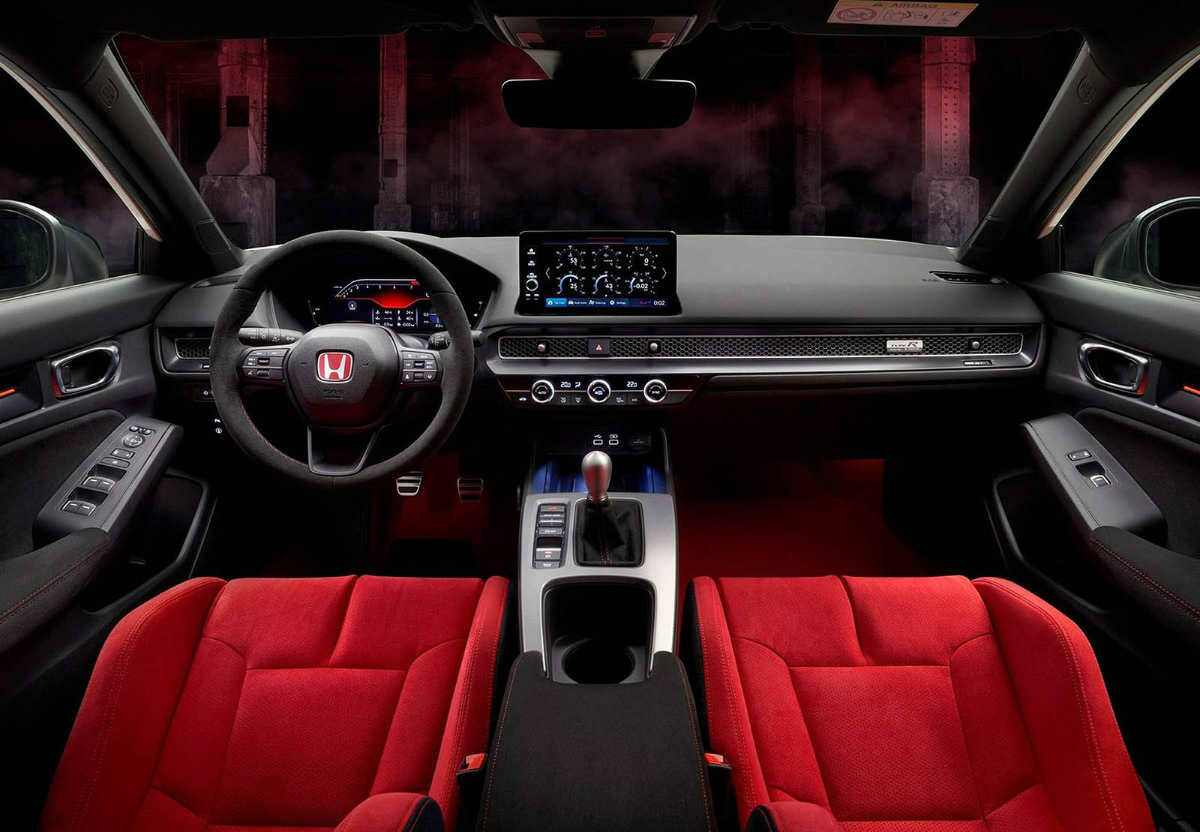 As before, the nine-inch touch-screen contains Honda's LogR Performance Datalogger. Designed primarily for track use, the system shows oil pressure, coolant temperature and braking and cornering G-forces, and displays a stopwatch image for registering lap times.
For 2023, The Type R's turbocharged 2.0-litre four-cylinder engine puts out 315 horsepower and 310 pound-feet of torque. The previous rating was 306/295. Most of the gains come from improvements to the turbocharger and a less restrictive exhaust system.
For perspective, that's 57 per cent more horsepower than the somewhat sporty Si sedan, which is rated at 200 horsepower and 192 pound-feet.
Every Type R comes with pre-set Comfort, Sport and +R modes that alter the engine, steering, suspension and exhaust characteristics. The Individual mode allows for more detailed adjustment according to personal preferences.
A requirement for piloting a Type R is the ability to operate a six-speed manual gearbox. It benefits from a lighter flywheel and revisions to the rev-matching system for smoother downshifts. Honda also fine-tuned the shift pattern for more precise gear changes.
Compared with the previous model, the new Type R has a revised suspension and lighter two-piece front brake rotors.
Fuel consumption is rated at 10.8 l/100 km in the city, 8.3 on the highway and 9.7 combined.
Pricing rings in at $51,800 including destination fees. That's in the same ballpark as the AWD Volkswagen R but much more than the Hyundai Elantra N, the AWD Subaru WRX and newcomer Toyota GR Corolla, which is also AWD.
Each of these models has its own unique formula for delivering go-fast entertainment that looks good and provide plenty of enjoyment behind the wheel.
Even with Honda's significant upgrades for 2023, it won't be a cakewalk for the Civic Type R in this segment. But for loyal Honda fans, there will be no substitute.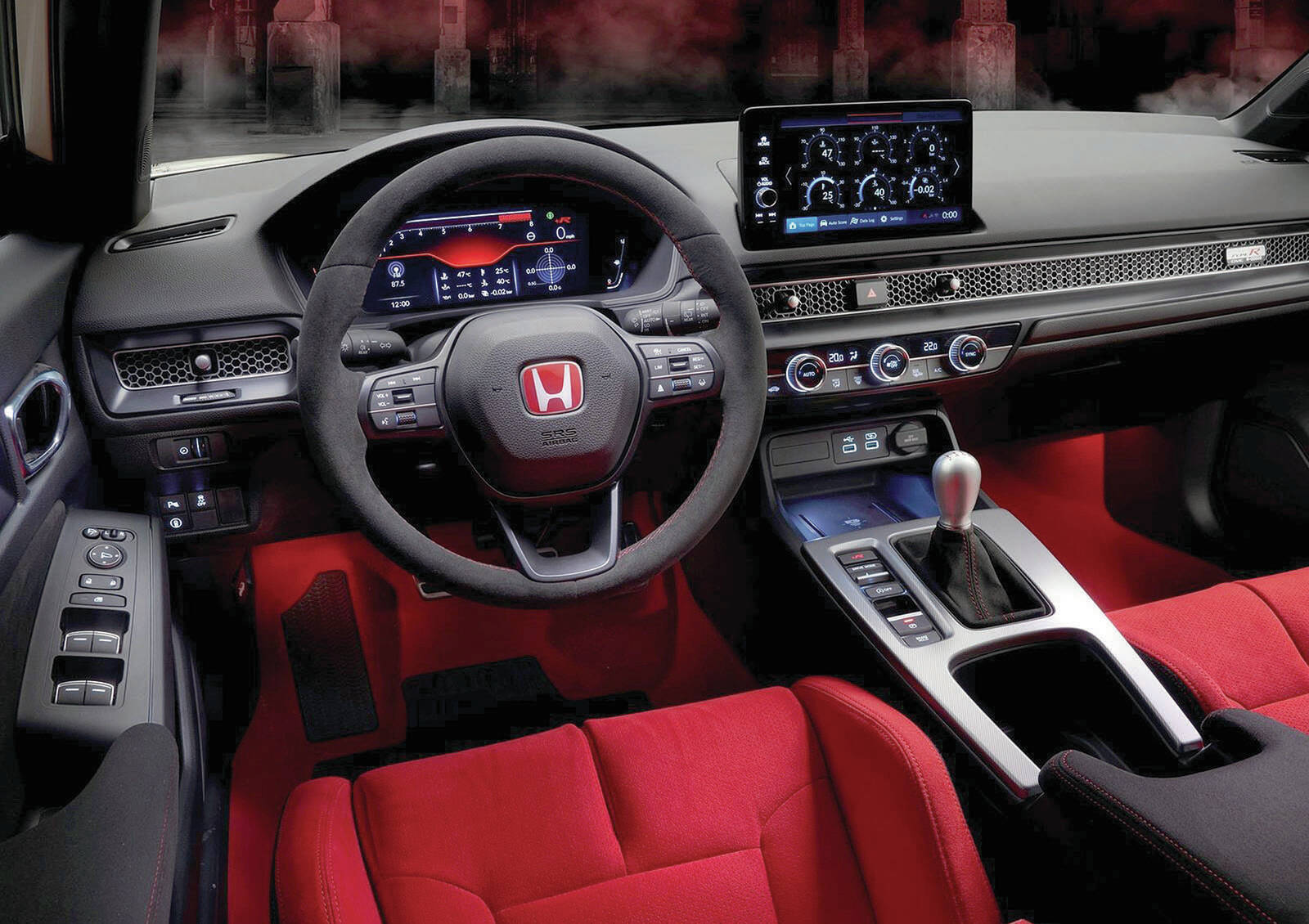 What you should know: 2023 Honda Civic Type R
Type: Front-wheel-drive compact four-door hatchback
Engine (h.p.): 2.0-litre I-4, turbocharged (315)
Transmission: Six-speed manual
Market position: Since its arrival for 2017, the Civic Type R has earned its stripes against compact entries from Hyundai, Subaru and Volkswagen. The mission is to provide good performance at a reasonable cost.
Points: Attractive styling keeps it conservative, other than the large rear wing. • Turbocharged four-cylinder engine produces slightly more power than previously. • Upgraded suspension and brakes are a plus, especially when on the track. • Sporty interior includes a performance-monitoring page in the display. • Arrives in a fully equipped state; there are zero options.
Driver assist: Blind-spot warning with rear cross-traffic backup alert (std.); automatic emergency front braking (std.); inattentive-driver alert (n.a.); lane-departure warning (std.); pedestrian detection (std.); traffic-sign recognition (std.)
L/100 km (city/hwy): 10.8/8.3
Base price (incl. destination): $51,800
BY COMPARISON
Hyundai Elantra N
Base price: $40,000
Fast FWD sedan uses a turbo 275-h.p. I-4. 6 MT and opt. 8 AT available.
Toyota GR Corolla
Base price: $45,500
New 2023 hatch comes with a 300-h.p. three-cylinder engine. AWD is std.
Volkswagen Golf R
Base price: $49,250
Pricier than the Honda, but comes with AWD and makes identical h.p.
– written by Malcom Gunn, Managing Partner at Wheelbase Media
If you're interested in new or used vehicles, be sure to visit TodaysDrive.com to find your dream car today! Like us on Facebook and follow us on Instagram