B.C. Premier David Eby was in Chilliwack Friday to announce a $5-million flood protection investment that will pave the way for a major, long-term diking project to go ahead.
"People across British Columbia have seen first-hand the impacts of climate change," said Premier David Eby in a press release. "In the Fraser Valley and elsewhere, we have seen the devastating impacts of flooding.
"The work we are funding today will protect people and help recognize Indigenous Peoples as true partners and leaders in emergency management."
The $5 million for riprap is aimed at shoreline stabilization through erosion control to protect the people of Sqwá, Shxwhá:y Village and Chilliwack from the Fraser River.
"This particular investment is for something called riprap, which is essentially a layer of stone that will protect the riverbanks from erosion," Eby explained.
It will lead to a new alignment of the diking system that will put people of Sqwá and Shxwhá:y behind protection of the diking system for the first time.
"This funding allows for immediate action to be taken to address erosion issues, allowing the planning and construction of the long-term dike project," said Bowinn Ma, minister of emergency management and climate readiness.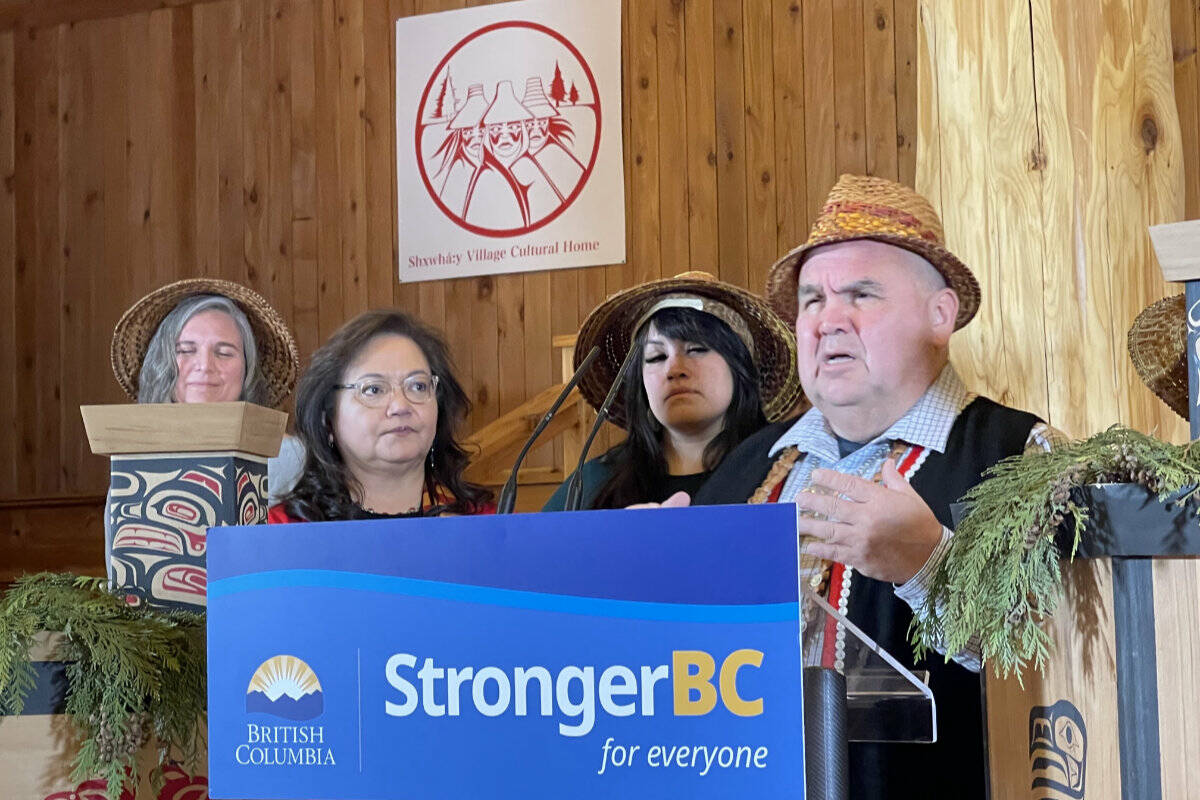 The province's $5-million project will smooth the way for a long-term $45-million diking project, originally announced by the federal government in 2019, to now move forward, after riprap erosion-control measures were recommended to better protect the affected communities.
The $45 million dike project will eventually see eight kilometres of new dikes, a new floodgate structure crossing the Hope Slough and a new drainage pump system. The bulk of the funding is from Infrastructure Canada's disaster mitigation and adaptation fund, with $13 million from Indigenous Services Canada and $7 million from the City of Chilliwack.
Chief Lara Mussell, Sqwá First Nation said without effective flood mitigation, "it becomes increasingly difficult to secure a sustainable future" for their lands and people.
"This investment from the province toward critical shoreline protection will not only help safeguard our culture, traditions and way of life, but it will also help enhance the safety and well-being of our neighbours in the City of Chilliwack."
Chief Mussell said she was one of the volunteers who helped fill sandbags during the 2021 flooding threat, adding that threat "is a reality for us here, at Shxwhá:y Village and at Sqwá First Nation," she said.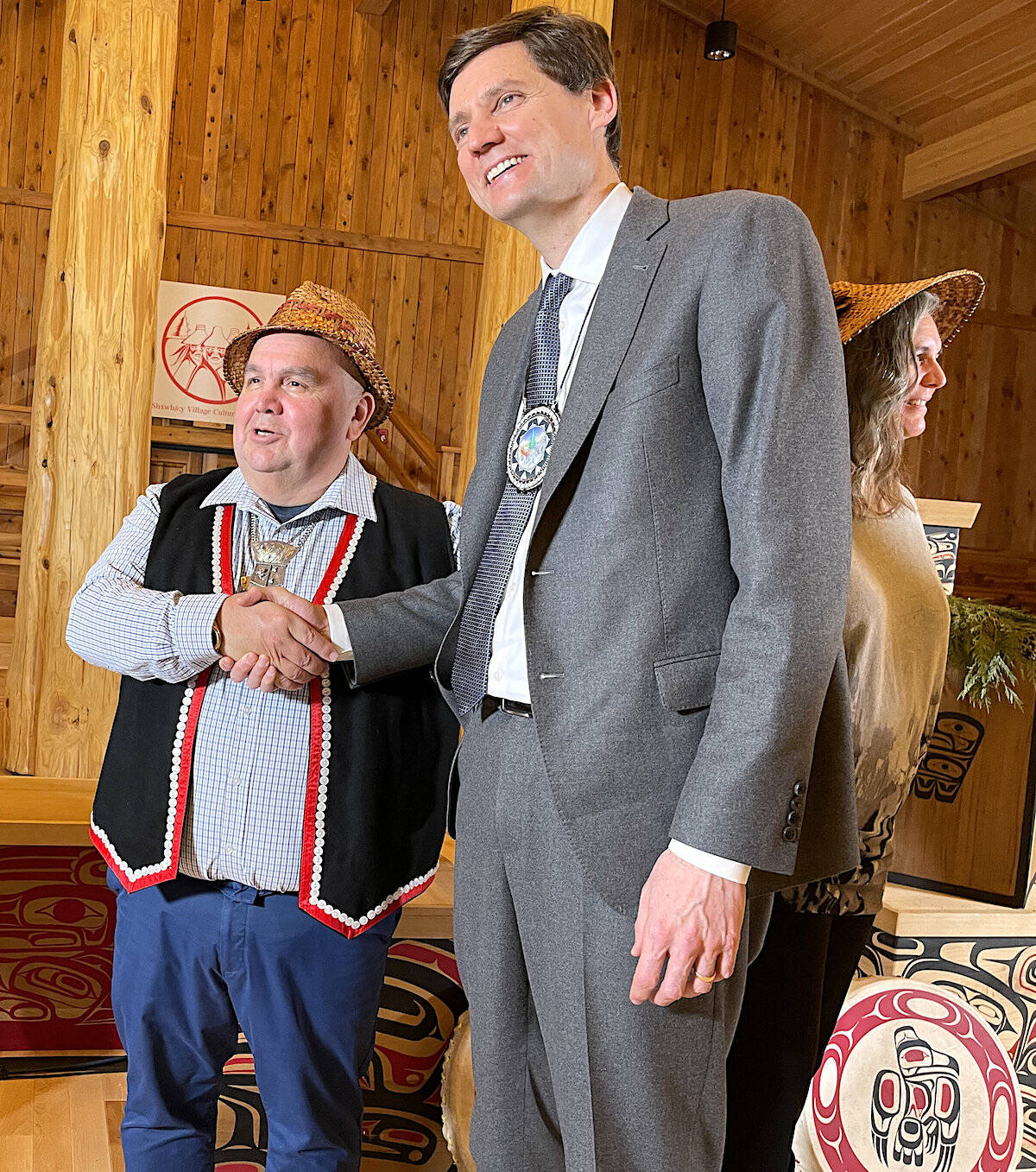 Shxwhá:y Chief Robert Gladstone praised the "bridge-building" aspect of allowing their nations to be better prepared, and working closely with neighbouring communities on emergency management.
"I want to open by saying today that we are building not just a water-protection flood mitigation system today, but we're building a bridge forward in the history of native people, the provincial government, the federal government, and the City of Chilliwack.
"Today, we are beginning the redefinition of what it means to work together as First Nations people in governments," Gladstone said.
The "most beautiful story" Gladstone said wanted to share was about the way they are working with City of Chilliwack, in a way they couldn't have imagined of 30 years ago.
"The city said 'Let's be partners.' Now the provincial government is standing with us together, making three levels of government. Four if you wish.
"And together we are creating a safer path forward for our own people, and for each other."
Stó:lō Tribal Council president Tyrone McNeil said the flood resilience money has been "a long time in coming."
He appreciated the reconciliation efforts underway between City of Chilliwack, FVRD Chair Jason Lum, and the two First Nations communities.
"For too long they've been on the wrong side of the dike. Now, they have the opportunity to be on the right side of the dike to protect some very limited land they have in the two reserves," McNeil said.
Do you have something to add to this story, or a news tip? Email:
jennifer.feinberg@theprogress.com
---
@CHWKjourno
Like us on Facebook and follow us on Twitter.