Well, they're back.
A Guildford neighbourhood is experiencing a most unwelcome déjà vu after protesters re-invaded their street Friday morning, following a two-year hiatus, to target a local man whom they claim is a spy for the Chinese government.
Bingchen (Benson) Gao, the subject of the protest, is a journalist who files for a Chinese language newspaper in Vancouver and comments on YouTube. He does not speak English well but his wife, Alice Zheng, said Friday that their neighbours "feel very angry."
"Even the police asked us to keep safe, not go outside," she said. The protesters' claims, she said, "are very ridiculous."
"My husband has criticized CCP (Chinese Community Party) over 30 years," she said. "That's why he immigrated here."
Gao later sent an email to the Now-Leader urging police "to pay attention to this matter and protect the safety of my neighborhood."
Bingchen (Benson) Gao, left, and his wife, Alice Zheng in their home on Jan. 20, 2023. (Photo: Anna Burns)
Surrey RCMP Const. Sarbjit Sangha said police are "monitoring" the situation.
"We are aware of a small number of people staging a protest on public property," Sangha said Friday. "We are monitoring that it stays a peaceful protest. We have attended the area and we have spoken with the protesters. They have been advised to remain in the public place and that public place right now is a public park in that area, and that's where the protest is."
At the height of the pandemic, protesters showed up in the 9700-block of 149 Street, some marching up and down the road in blue bubble suits, and others carrying placards, to the consternation of Gao's neighbours. The first round of protesting began on Sept. 14, 2020 and dragged on for 77 days.
This second round began Jan. 20 at 9 a.m., just in time for Chinese New Year.
"We are ecstatic," a neighbour said sarcastically. "It's been two years, I cannot believe that they are back."
"Such a nuisance," they told the Now-Leader on Friday. "I also thought that the Canadian government is trying to decrease Chinese influence in Canada, so their presence is perturbing."
Shiliang Yin, who received a seven-month conditional sentence for assaulting Gao's friend Louis Huang in Gao's cul-de-sac during the 2020 protest, told the Now-Leader the protesters intend to stick around for at least 15 days this time around.
"It's same," he said of this latest siege. "We do what we do…I come here again."
"I believe this guy's CCP spy," Yin said of Gao.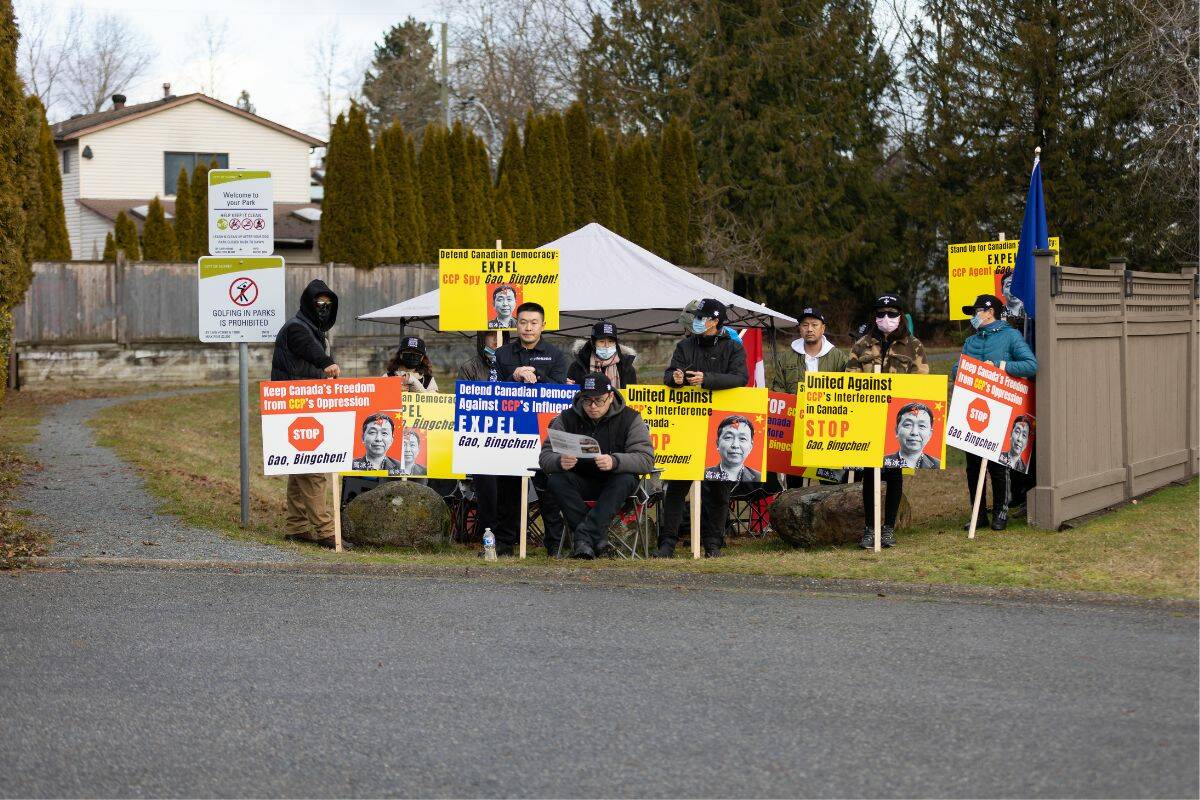 Group of protesters sitting at a park across the street from Gao's home on Jan. 20, 2023. (Photo: Anna Burns)
Roughly 15 members of the New Federal State of China were there Friday, sitting at the edge of a small park across from Gao's place. Equipped with placards that read "Defend Canadian Democracy" and to "expel" Gao, they had a tract that begins with "Dear Neighbours" and alleges Gao began a spy mission in Canada in 2008 "in cooperation with" the Chinese Communist Party's Jiangsu State Security Department.
Two women who were out for a walk expressed dismay that the protesters have returned. Both declined to disclose their names.
"It's stupid," said one. "You know, like there's got to be better ways than to come and disrupt a neighbourhood."
Meantime, Gao's email also reads "I sincerely hope that we will be protected in our homes and our children can go to school without fear and we hope that there will be no more bloodshed!"
Video a Surrey resident made during the ongoing saga of one strange protest in her neighbourhood that's drawn on for 12 weeks now. pic.twitter.com/eyf1tRjXK1

— Tom Zytaruk (@tomzytaruk) December 1, 2020