NOTICE OF PUBLIC HEARING
to consider Official Community Plan Amendment Bylaw No. 1558 and Zoning Amendment Bylaw No. 1559 for the property at 455 Coquihalla Street; Hope, BC

Pursuant to Section 466 of the Local Government Act, notice is hereby given that at the above referenced meeting, Council will hear the views of the public in order to assist them in deciding whether the proposed amendment bylaw should proceed.
Intent of the Proposed Amendment Bylaw
To rezone the property at 455 Coquihalla Street from Multiple Family Residential (RM-1) to a site-specific Comprehensive Development zone (CD-12) in order to allow for a mixed-use residential development consisting of a 54-unit apartment and townhouse complex.
Legal Description and Location of the Subject Property (see location map below)
Lot 26 Block 1 Sec 16 TWP 5 RGE 26 W6M Yale Division Yale District Townsite of Hope Suburban Except: (1) Parcel K Plan A128 (2) Plan B5277 (3) that Party Lying to the North and East of Parcel K (Plan A128); PID 007-332-025; 455 Coquihalla Street.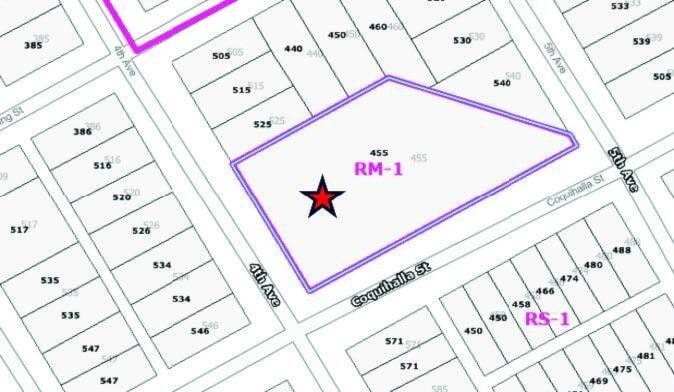 Inspection of Documents
If you require an explanation on the bylaw amendment or would like to view the staff report and bylaw, please contact the District of Hope Planning Department at 604-869-5671 between the hours of 8:30 am and 4:30 pm, Monday to Friday excluding Statutory Holidays. Staff's entire report to Council can also be viewed in the August 31, 2021 Council Agenda package available on the District of Hope website at www.hope.ca.
Submissions
If you have an interest in this amendment bylaw, you are invited to comment in writing to rzerr@hope.ca or dbellingham@hope.ca or mailed to the District of Hope, 325 Wallace Street, PO Box 609, Hope, BC, V0X 1L0. Submissions received prior to 12 o'clock noon on Monday, September 18, 2023 will be presented to Council in their agenda package.
The public is also welcome to attend the September 25, 2023, 6:30 pm Public Hearing to be held in Council Chambers, 325 Wallace Street, Hope, BC and make your views know to Council when the Mayor asks for comments from the public.
Richard Zerr, Acting Director of Community Development