Forty years ago, the hills of Hope, B.C., starred alongside actor Sylvester Stallone in a little film called Rambo First Blood.
Set in the fictional town of Hope, Wash., the Hollywood blockbuster put the small Fraser Valley community on the cinematic map, following the Vietnam veteran's exploits as he channels his survival skills to avoid capture by a ruthless police department.
Four decades later, the town and film buffs alike are commemorating the anniversary with the week-long Rambo First Blood 40th anniversary.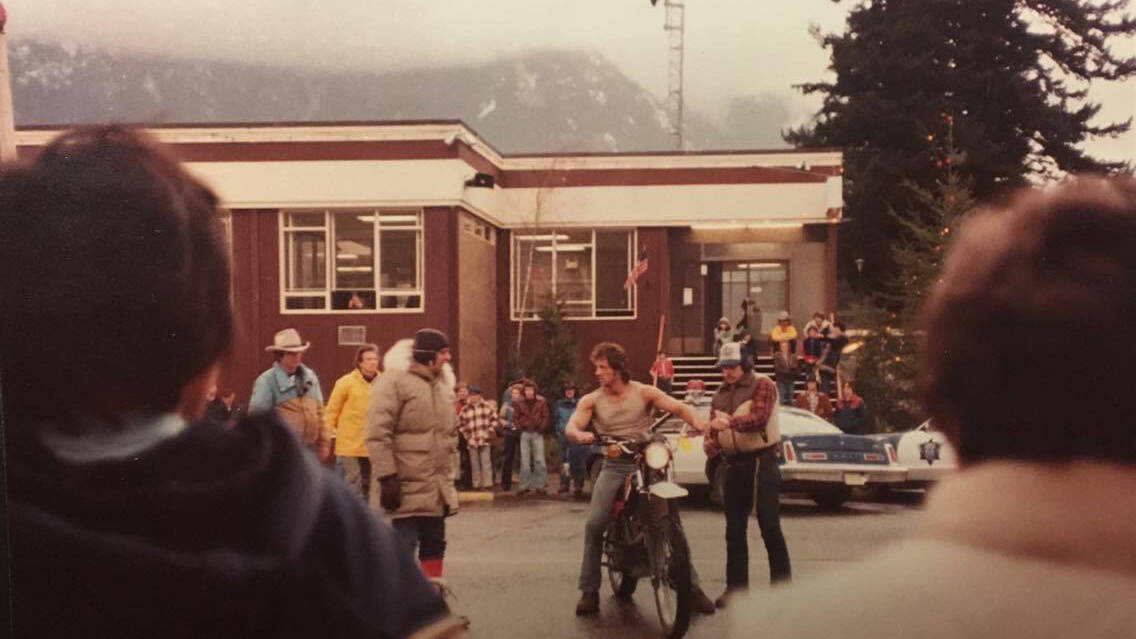 Rambo – and Hope, B.C. – broke ground for film and production in British Columbia, crowned the original "Hollywood North." Through the decades, fans of the film franchise have flocked to the town where it began.
A carving of John Rambo was even installed at Hope's Memorial Park in 2020, an event which made national and international news.
Celebrating 40 years
The Rambo First Blood 40th anniversary is the biggest event yet, a four-day festival running from Oct. 7 to 10, with variety of fun events and attractions all over town.
The festival kicks off on Friday with all-ages fun at HMI Skate Park, plus a chance to win a creation from John Rambo carving creator Ryan Villiers, a walking tour of your favourite filming locations, and showings of the movie at at Mountainview Brewing Co. where you'll also find a display of props from the movie.
On Saturday, shoe your own skills at Rambo paintball at the Hope Bike Park, a tribute to late Rambo actor Brian Dennehy on Wallace Street, an appearance by Rambo actor Patrick Stack at the Hope Cinema Cafe followed by evening showings of the movie. Wrap-up the night with Rambo karaoke at the Local House Silver Chalice Pub!
On Sunday, shop for all your First Blood souvenirs while browsing a Military vehicle display at the Hope Cinema Café. Then witness a 52-tonne Australian Centurion tank drive over parked cars, Rambo-style, right on Wallace Street, followed by a Stallone Shout Out of "Nothing is over!" to a drone flying overhead, with prizes for the best-dressed Rambo.
Take in a Sunday afternoon movie showing at the Hope Cinema Café before heading to the King Pin Lounge patio.
All three of these days also include a chance to play "Where's Rambo" at participating businesses around town. The winner will receive a First Blood 40th anniversary gift package drawn Sunday afternoon. Also check out the First Blood-themed art exhibit and creations by local artisans at the Hope Arts Gallery and gift shop.
For the last day of the festival, the First Blood filming locations tour hits the road! Join Scott Hardy from FirstBloodFilminglocations.com as he takes you to Harris Road where Rambo's army truck crashed through the road block, the junk yard, the river bed where John J flips his bike, Sheriff Teasle flips his sheriff's car, Base Camp and Capilano River Provincial Park.
And remember… "Nothing is over!" – John James Rambo
Plan your visit at tourismhcc.ca/first-blood.
Plan your adventures throughout the West Coast at westcoasttraveller.com and follow us on Facebook and Instagram @thewestcoasttraveller. And for the top West Coast Travel stories of the week delivered right to your inbox, sign up for our weekly Armchair Traveller newsletter!